FREE SHIPPING IN DENMARK ON ORDERS ABOVE DKK 750,-
Your order: 0 item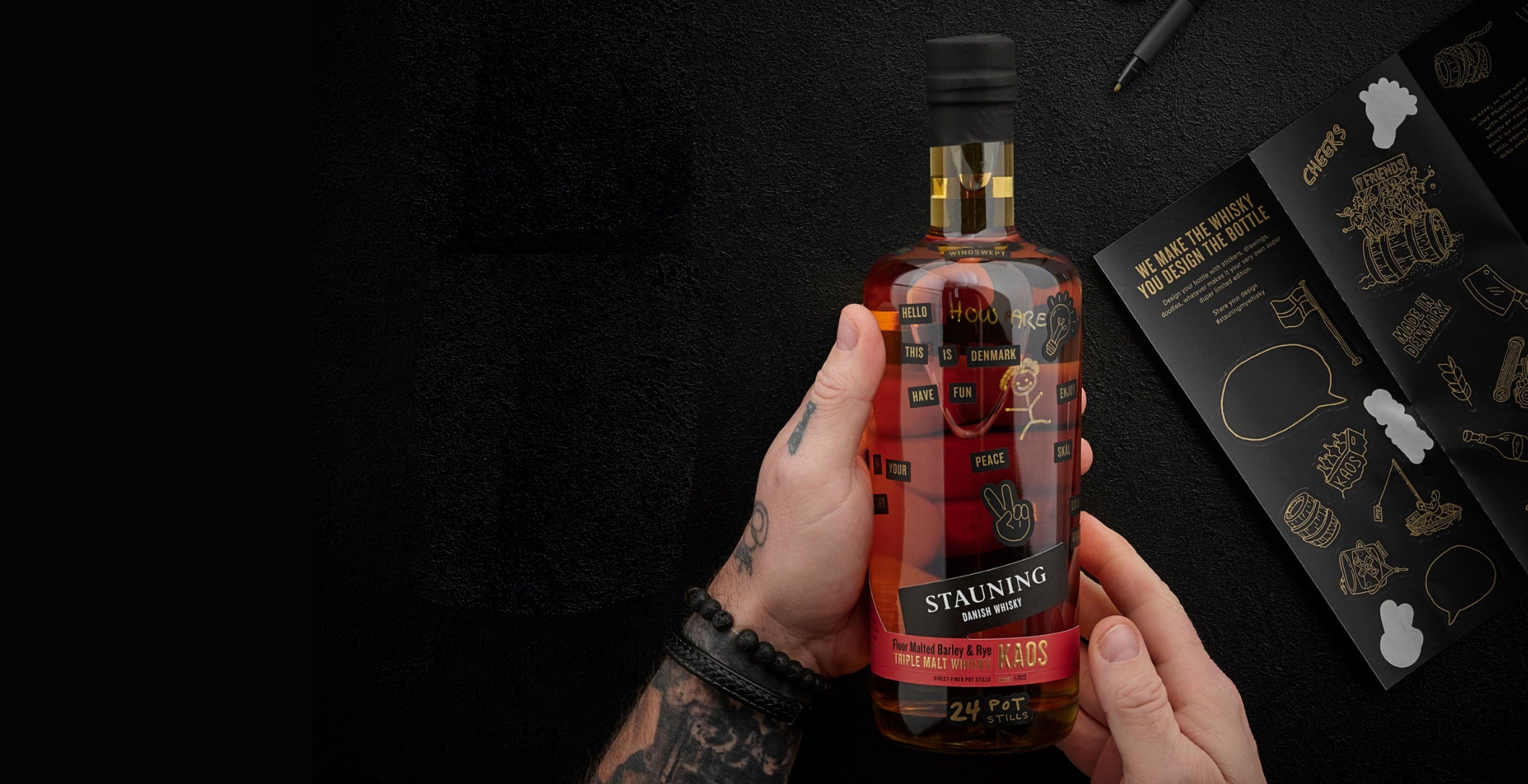 WE MAKE THE WHISKY
YOU DESIGN THE BOTTLE
DESIGN YOUR VERY OWN STAUNING RYE, KAOS AND SMOKE WHISKY
Supply delays around the world have impacted us and left us without our beloved black and gold bottles for a while. Bummer...

Now, we refuse to let something like that get in the way of you and your favourite Stauning Whisky. So we thought, how do we design a temporary replacement that everyone will love - and realised that we can't. But you can! 
CREATE YOUR OWN ONE-OF-A-KIND MASTERPIECE
Starting with a bare bottle that features only a simple label, design your own bottle with stickers, drawings, doodles, whatever makes it your very own limited edition. Each bottle comes complete in a gift pack with a sheet of stickers and a gold pen to get you started. 

And if you mess it up… well, accidents happen. But with our gold pen accidents can be washed away with a drop of whisky. If you can part with a drop of your Stauning Whisky you can try again… and again. 
IT'S THE STAUNING YOU LOVE OR HATE - JUST WITH A BIT OF ADDED YOU
These Design Edition bottles are available in our smooth and nuanced Stauning Rye Whisky, our one-of-a-kind KAOS Triple Malt Whisky, and of course, our Smoke Single Malt Whisky… the one smoked with peat and heather.
THERE'S EASIER WAYS OF MAKING WHISKY. BUT WHERE'S THE FUN IN THAT?
We spent a lot of time designing our black and gold Stauning Whisky bottle. During the design process, there were many edits, a few tears, and more happy accidents than we care to admit. This all led to a final design that we love! But thanks to supply issues, we are unable to make these bottles for a while. We're not going to lie… it sucks!
But in Stauning, when facing challenges, we are hell-bent on creating something even better to solve the problem. Like the time we invented the Stauning malt turners, so we could continue to floor malt our local Danish grains at the distillery, without breaking our backs. 
We took these supply issues as our opportunity to give you the freedom to experience this creative process for yourself… This is your bottle of Stauning Whisky to make truly yours. We've dubbed it the Super Duper Limited Design Edition, as no
one will look like yours. 
These Design Edition gift packs are available with the whiskies that we do best, simply with the Stauning Rye Whisky, KAOS Triple Malt and Smoke Single Malt Whisky. Neatly packed in a gift box along with a large sheet of black and gold stickers and a gold pen. But don't stop there. If you love something, add it to your bottle. 
Read more about how 9 founders, without previous knowledge, made some of the best whiskies from Denmark. 
Choosing a selection results in a full page refresh.
Press the space key then arrow keys to make a selection.