Design Edition | Stauning Rye Whisky
kr 495.00
en
Approx. €61.90
$79.99
Only left in stock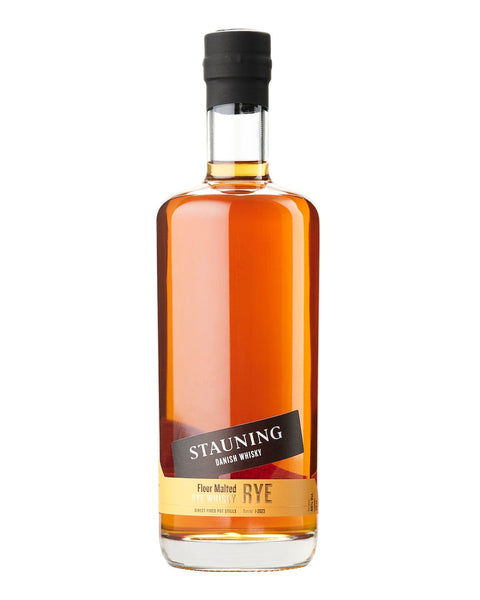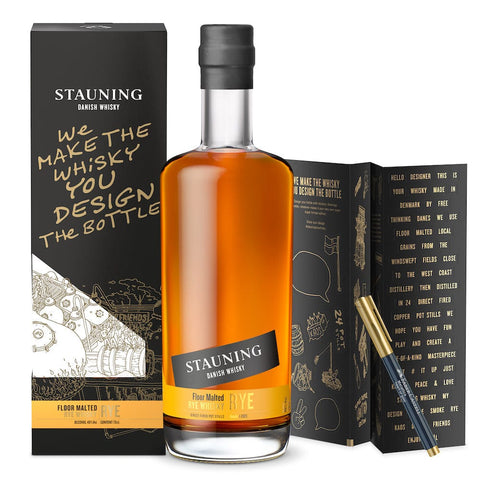 Design Edition | Stauning Rye Whisky
kr 495.00
Approx. £60.00
$79.99
Only left in stock
70cl - ABV: 48%
750ml - ABV: 48%
Design your very own bottle of Stauning Rye Whisky.
Supply delays around the world have impacted us and left us without our beloved design bottles for a while. Bummer...
Now, we refuse to let something like that get in the way of you and your favourite Stauning Whisky. So we thought, how do we design a temporary replacement that everyone will love - and realised that we can't. But you can!
(If you're from Denmark, please switch to Danish in the buttom to purchase directly)
LessMore information
Back to shop
WE MAKE THE WHISKY, YOU DESIGN THE BOTTLE
FINISH THE BOTTLE BEFORE YOU OPEN IT
CREATE A TRUE ONE-OF-A-KIND MASTERPIECE. Starting with a bare bottle that features only a simple label, design your own bottle with stickers, drawings, doodles, whatever makes it your very own limited edition. Each bottle comes complete in a gift pack with a big sheet of stickers and a gold pen to get you started.
And if you mess it up… well, accidents happen. But with our gold pen accidents can be washed away with a drop of whisky. If you can part with a drop of your Stauning Whisky you can try again… and again.
IT'S THE STAUNING YOU LOVE OR HATE
— JUST WITH A BIT OF ADDED YOU
The Design Edition of the Stauning Rye contains the same whisky that you know from the other bottles. It's a liquid interpretation of freshly baked Danish rye bread. A Nordic rye whisky with dark and roasted aromas and a long fruity aftertaste.
This is a different kind of rye whisky. The combination of malted rye and barley and pot still distillation makes this a smooth, fruity and full-bodied whisky.
Open-fired stills creates complex and deep flavours thanks to the fact that a still heated this way will reach significantly higher temperatures (up to 650˚C). This causes any solids in the wash to stick to the inner surface of the copper, in the same way as steak placed on a hot griddle pan will start to brown. This Maillard type reaction inside the still will help to create a range of different flavour compounds, like chocolate, caramel and roasted nuts.
Tasting Notes & More
Want to know more about the whisky?
Tasting Notes
Freshly-baked rye bread, wine gums and hint of pepper on the nose. Gentle, dried fruit, ripe cherry and peppery oak on the palate, balanced by vanilla and citrus peels, leading to a peppery finish and long smooth, fruity and sweet finish.
Age & Maturation
Matured for 3-4 years in new American oak barrels.
Productions & Ingredients
Local: Made from local rye and barley
Authentic: 100% floor-malted at the distillery
Character: Double-distilled in small, open-fired pot stills Unfiltered and not chill-filtered - some residue may appear.
Handmade: Everythings done at the distillery using nothing but local ingredients.
International Wine & Spirits Competition (IWSC), 96 points / gold medal
A captivating whisky full of intriguing complexity. Broad flavours of bacon and smoky peat balance beautifully with the zesty tang of citrus fruit, sweet corn and pepper. A hint of tea gives an extra level of deliciousness. Incredibly drinkable.
Joel Harrison, 95 points / gold medal
"At Stauning distillery on Denmark's west coast, malting rye has been a key part of the production since its launch a decade ago. The spirit here is produced from a blend of Danish rye and barley and distilled in traditional direct-fire pot stills, which gives a rounded, almost creamy note. A 95-point score and a gold medal shows how well made this really is."