Stauning Douro Dreams | Limited Edition
kr 595.00
en
Approx. €64.90
$71.90
Only left in stock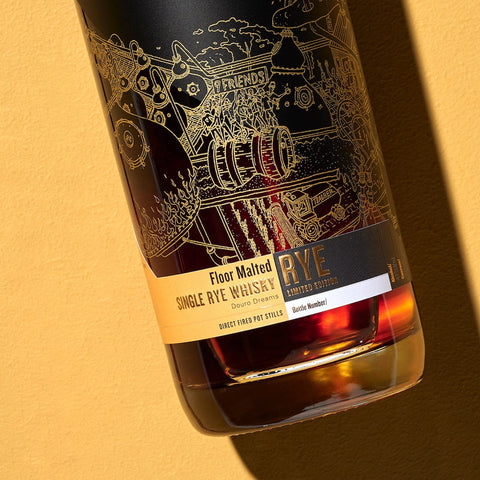 Stauning Douro Dreams | Limited Edition
kr 595.00
Approx. £64.99
$71.90
Only left in stock
70cl - ABV: 41%
Presenting the Stauning Limited Edition Rye Whisky: Douro Dreams
A rye whisky that takes you on a journey from the Danish West Coast to the Portuguese Douro Valley, famous for its Port wineries. Douro Dreams adds an extra fruity and spicy dimension to our Rye Whisky thanks to the bold characters of the 19 unique Portuguese Ruby and Tawny Port casks in this limited edition vatting.
Don't forget all orders placed over 750 kr. will be delivered free of charge. So why not grab another bottle, or pick up a t-shirt for the summer.
(If you're from Denmark, please switch to Danish in the bottom to purchase directly)
LessMore information
Back to shop
Curious fact
Douro Valley is considered the oldest wine region in the world
Port wine (also known as vinho do Porto or simply port) is a Portuguese fortified wine produced in the Douro Valley of northern Portugal. It is typically a sweet rich red wine, often served with dessert.
Douro Valley, where Port is made, is considered to be the oldest wine region in the world. It was established in 1756.
Stauning Douro Dreams
LIMITED EDITION
A total of 19 unique casks in this small batch vatting.
LOCAL
Made from rye & barley sourced from two local farms.
MASHBILL
Slight variation per cask but trending towards 51% rye and 49% barley.
AUTHENTIC
Grains floor malted and kiln dried at the distillery.
COMPLEXITY
Matured on-site in heavy charred new American white oak barrels and Ruby and Tawny Port casks.
CHARACTER
Double-distilled in small, direct-fired pot stills.
Unfiltered and not chill-filtered - some residue may appear.
EVERYTHING IN HOUSE
From grain to glass, Bottled at Stauning Whisky distillery.
Distilled January 2020. Bottled June 2023.
No colour added and No chill filtering - some residue may appear.
Tasting Notes & Details
Tasting Notes
The whisky has an intricate flavour profile, featuring notes of red berries, green apples, citrus, cereals, malt, and a hint of spiced cinnamon and roasted notes, evoking the richness of Danish rye bread and Portuguese Port wine.
Alcohol by Volume (ABV)
Bottled at 41%, balancing flavour intensity and smoothness
Maturation
Distilled in January 2020. Bottled June 2023. Aged for more than 3 years in American white oak and Portuguese Ruby and Tawny Port casks providing unique, layered flavours.
Volume
4,600 70cl bottles available globally.