Design Edition | Stauning KAOS Triple Malt Whisky
kr 595.00
en
Approx. €67.90
$89.99
Only left in stock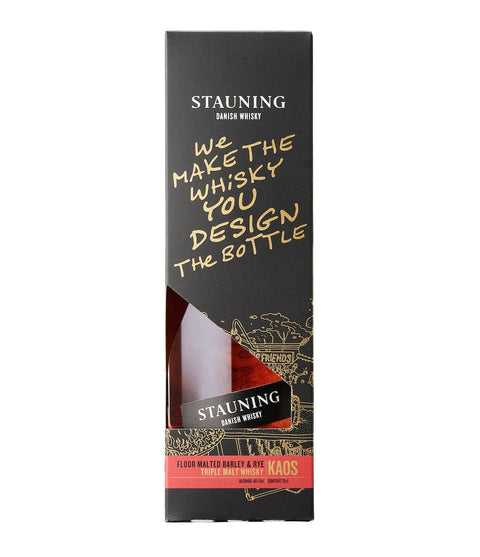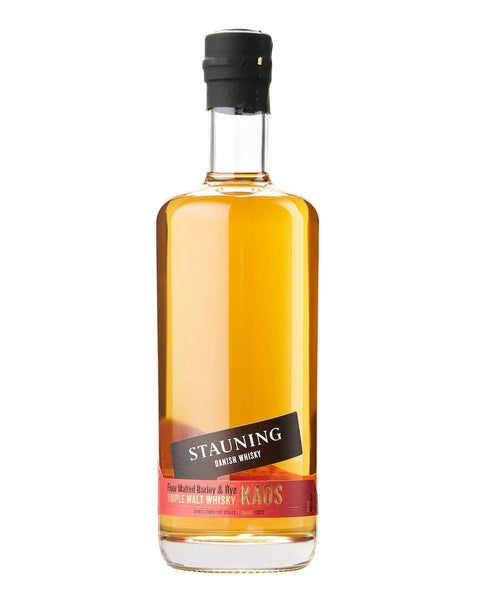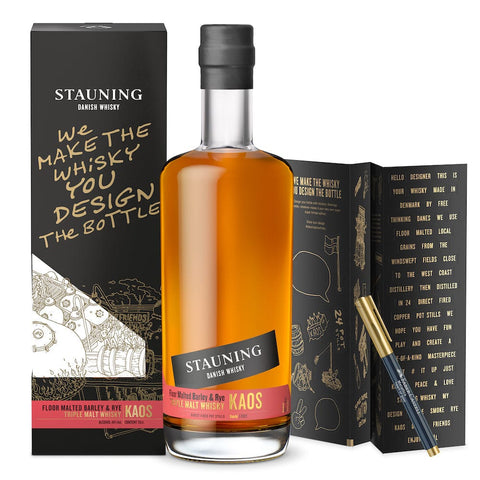 Design Edition | Stauning KAOS Triple Malt Whisky
kr 595.00
Approx. £65.00
$89.99
Only left in stock
70cl - ABV: 46%
750ml - ABV: 46%
Design your very own bottle of Stauning KAOS Triple Malt Whisky.
Supply delays around the world have impacted us and left us without our beloved design bottles for a while. bummer...
Now, we refuse to let something like that get in the way of you and your favourite Stauning Whisky. So we thought, how do we design a temporary replacement that everyone will love - and realised that we can't. But you can!
(If you're from Denmark, please switch to Danish in the buttom to purchase directly)
LessMore information
Back to shop
WE MAKE THE WHISKY, YOU DESIGN THE BOTTLE
FINISH THE BOTTLE BEFORE YOU OPEN IT
CREATE A TRUE ONE-OF-A-KIND MASTERPIECE. Starting with a bare bottle that features only a simple label, design your own bottle with stickers, drawings, doodles, whatever makes it your very own limited edition. Each bottle comes complete in a gift pack with a big sheet of stickers and a gold pen to get you started.
And if you mess it up… well, accidents happen. But with our gold pen accidents can be washed away with a drop of whisky. If you can part with a drop of your Stauning Whisky you can try again… and again.
IT'S THE STAUNING YOU LOVE OR HATE
— JUST WITH A BIT OF ADDED YOU
The Design Edition of the Stauning KAOS contains the same whisky that you know from the other bottles. Basically, KAOS is everything Stauning does, in one bottle. A bit of smoke, a bit of spice, and a lot of complexity in a versatile Nordic whisky.
An extremely versatile whisky: For the full undiluted experience, drink it neat like a scotch, add ice for a bourbon/rye feel or spice up your classic whisky-based cocktail with a Nordic chaotic twist.
Open-fired stills creates complex and deep flavours thanks to the fact that a still heated this way will reach significantly higher temperatures (up to 650˚C). This causes any solids in the wash to stick to the inner surface of the copper, in the same way as steak placed on a hot griddle pan will start to brown. This Maillard type reaction inside the still will help to create a range of different flavour compounds, like chocolate, caramel and roasted nuts.
Tasting Notes & More
Want to know more about the whisky?
TASTE
Lightly smoked, spicy and sweet, a whisky with complexity and structure.
On the nose: cereals, chocolate, oak, caramel, cinnamon and bonfires. A taste like a smoked chocolate bar with a palate of nougat, caramel, liquorice, sweet apple and oak. A long smokey aftertaste with vanilla, orange, tobacco, dried red fruit and more oak.
Age & Casks
Matured for 4-5 years in heavy charred Virgin American Oak barrels and 1st fill, Makers Mark-cask
IWSC, Silver medal - 91 points
"Comforting aromas of toffee popcorn and country bonfires. A delicious abundance of vanilla and sweet apple on the palate. A creamy blend of orange and tobacco accentuates the satisfying finish."
NYWSC - Double Gold
New York Wine & Spirits Competition - Double Gold: Awarded to the very few entries that receive a Gold medal rating by all members of the judging panel; these are among the finest products in the world.
Beverage Testing Institute - Silver medal
Gold color. Aromas and flavors of toasty crepes, sourdough, custard tart, nori, and raisins with a supple, crisp, dryish light body and a sleek, breezy finish that exhibits elements of freshly sawn wood and incense. A smoky Blended Malt with a chewy personality.
See other products
What else is there?