Stauning Bastard
kr 595.00
en
Approx. €69.90
$89.99
Only left in stock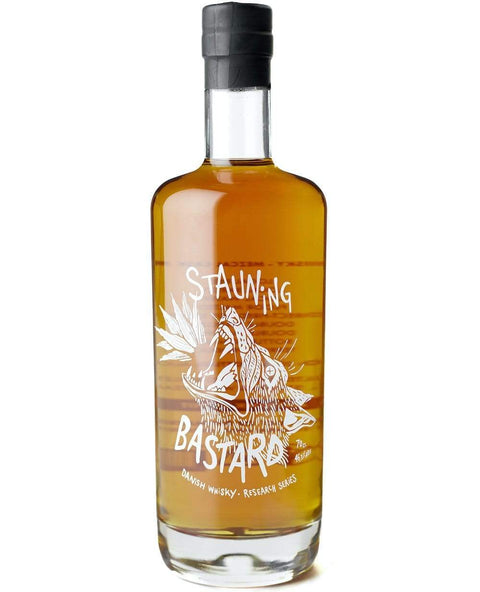 Stauning Bastard
kr 595.00
Approx. £68.00
$89.99
Only left in stock
70cl - ABV: 46,3%
The wind from the North Sea mixes blood with the desert of Mexico in this double-distilled rye whisky aged in old mezcal casks. An illegal love affair with a gentle and exotic aftertaste.
Stauning Bastard a rye whisky made purely of local ingredients, malted on the floor at our distillery and double-distilled in flame-heated pot stills. After at least three years in new, toasted virgin American oak casks, it has been rounded off with at least 6-months ageing in old mezcal casks from Mexican Oro de Oaxaca.
The result is an elegant love child whose equal you won't find anywhere else in this world.
(If you're from Denmark, please switch to Danish in the buttom to purchase directly)
LessMore information
Back to shop
Curious fact
The artwork on the bottle was made by a tattooist - Thit Hansgaard
Bastard is the second release from our Research Series: Stauning's playground, where we free ourselves from traditions and make room for experiments and innovation.
This whisky was created from our rye whisky that has matured additionally on Mezcal casks from Mexican producer, Oro de Oaxaca. Mezcal is a traditional Mexican liquor made by distilling the heart of the agave.
Using the best raw materials and most traditional production methods:
Research Series
The second release from our experimental series
Local
Made from rye & barley harvested in Stauning
Authentic
Floor-malted at the distillery
Complexity
Matured a minimum of 3 years in Virgin American Oak & then 6 months in Mezcal casks
Character
Double-distilled in small, open-fired pot stills
Unfiltered and not chill-filtered - some residue may appear
Handmade
100% handmade at the distillery using nothing but local ingredients
Tasting Notes
Nose
Sweet pipe tobacco smoke, raisins, oat biscuit, citrus, oak
Taste
Tobacco, vanilla, barley, dried fruit, cinnamon, brown sugar, molasses, shortbread, oak
Finish
Long sweet, slightly smoky, salty, brown sugar, pepper
Age & Casks
4 years. Matured between 3-4 years in Virgin American Oak & then at least 6 months in Mezcal casks