Stauning Heather Tonic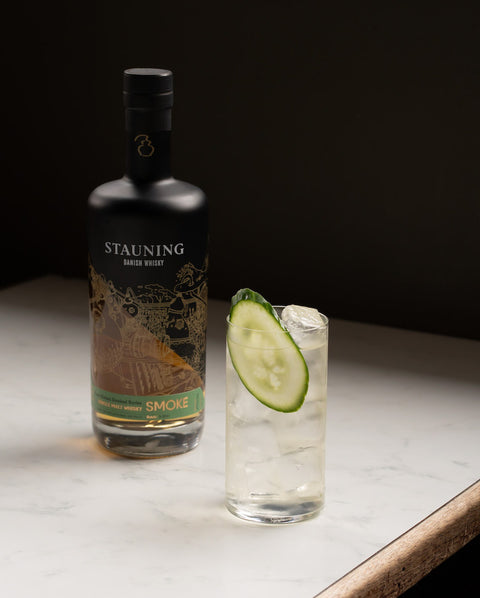 Stauning Heather Tonic
Using 3 simple ingredients, the whisky highball is a simple, enjoyable and refreshing cocktail. With loads of ice, it is the perfect summer cocktail.
Our Global Brand Ambassador, Ali Reynolds, knows a thing or two about whisky. And he's used that expertise to put together a special summer cocktail menu featuring our three core whiskies - Stauning KAOS, Smoke and Rye Whisky.
Stauning Smoke has a mild and aromatic smoky fragrance that blends perfectly with the bitter taste of the Tonic water.
LessMore information
Back to Cocktails
What you need
Recipe
5 cl Stauning Smoke Single Malt Whisky
12.5 cl chilled Tonic Water
Cubed ice
Garnish with a slice of cucumber
STEPS TO TAKE
Instructions
Start by adding the whisky and other ingredients to a highball glass. Fill it up with as much ice as you can.
Slowly pour in your chilled mixer over the ice, leaving a small space at the top. If you can add more ice, do it. If not, top up with a little more mixer.
Leave a slight gap at the top, add the suggested garnish, and you're all set.
Enjoy these highballs and let Stauning Whisky make your summer even better. Skål.
RELATED ARTICLES
Other Cocktail recipes to try