Stauning KAOS Triple Malt Whisky
kr 595.00
en
Approx. €67.90
$89.99
Only left in stock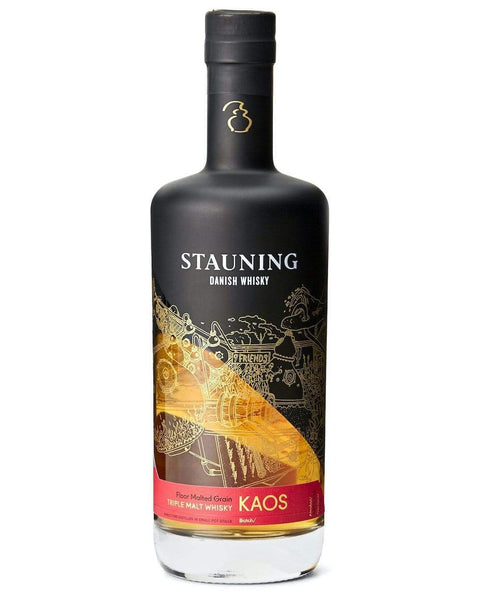 Stauning KAOS Triple Malt Whisky
kr 595.00
Approx. £65.00
$89.99
Only left in stock
70cl - ABV: 46%
750ml - ABV: 46%
Basically, everything Stauning does, in one bottle. A bit of smoke, a bit of spice, and a lot of complexity in a versatile Nordic whisky.
An extremely versatile whisky: For the full undiluted experience, drink it neat like a scotch, add ice for a bourbon/rye feel or spice up your classic whisky-based cocktail with a Nordic chaotic twist.
(If you're from Denmark, please switch to Danish in the buttom to purchase directly)
LessMore information
Back to shop
Curious fact
Inspired by Danish history
The name, KAOS, is inspired by Danish history. Thorvald Stauning (1873-1943) was the first social-democratic Prime Minister of Denmark and is considered to be the founder of the modern welfare state.
For his re-election campaign in 1935, he used the now famed slogan "Stauning or Chaos" ("Stauning eller Kaos" in Danish). He won the election.
We bring you both Stauning and KAOS by blending our best rye and single malt whiskies in a curious marriage.
A mashup made from our three single malts:
Variety
Stauning No-Smoke Single Malt, Stauning Malted Rye and Stauning Smoked Single Malt
Local
Made from locally harvested barley and rye
Authentic
Floor-malted at the distillery
Complexity
Matured in heavy charred Virgin American Oak barrels and 1st fill, Makers Mark-cask
Character
Double-distilled in small, open-fired pot stills
Unfiltered and not chill-filtered - some residue may appear
Handmade
100% handmade at the distillery using nothing but local ingredients
Tasting Notes
See what others have said
TASTE
Lightly smoked, spicy and sweet, a whisky with complexity and structure.
On the nose: cereals, chocolate, oak, caramel, cinnamon and bonfires.
A taste like a smoked chocolate bar with a palate of nougat, caramel, liquorice, sweet apple and oak.
A long smokey aftertaste with vanilla, orange, tobacco, dried red fruit and more oak.
Age & Casks
Matured for 4-5 years in heavy charred Virgin American Oak barrels and 1st fill, Makers Mark-cask
IWSC, Silver medal - 91 points
"Comforting aromas of toffee popcorn and country bonfires. A delicious abundance of vanilla and sweet apple on the palate. A creamy blend of orange and tobacco accentuates the satisfying finish."
NYWSC - Double Gold
New York Wine & Spirits Competition - Double Gold: Awarded to the very few entries that receive a Gold medal rating by all members of the judging panel; these are among the finest products in the world.
Beverage Testing Institute - Silver medal
Gold color. Aromas and flavors of toasty crepes, sourdough, custard tart, nori, and raisins with a supple, crisp, dryish light body and a sleek, breezy finish that exhibits elements of freshly sawn wood and incense. A smoky Blended Malt with a chewy personality.