Tasting Box 5cl - Research Series
kr 195.00
en
Only left in stock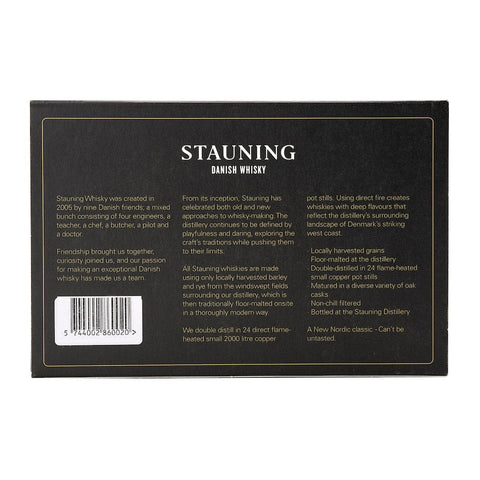 Tasting Box 5cl - Research Series
kr 195.00
Only left in stock
These tasting boxes are only for sale in Denmark
Introducing our premium whisky tasting set, featuring three distinct and high-quality whiskies from our Research Series for a curious tasting experience. Perfect for whisky enthusiasts and beginners alike, this set is sure to impress with its experimental approach to new flavours and aromas.
Crafted with the highest quality local ingredients and expertise, each whisky in our tasting set is a true masterpiece. Sip and savour each one, taking in the unique characteristics and subtle nuances that make them stand out from the rest. Whether you're looking to expand your palate or simply enjoy a luxurious whisky tasting experience, our set is the perfect choice. Presented in a beautiful black package, making it an ideal gift for curious whisky drinkers.
Order your whisky tasting set today and discover the exceptional flavours and aromas that await. Cheers to a truly unforgettable whisky tasting experience!
LessMore information
Back to shop
The perfect gift for the curious whisky drinker or for those wanting to try our Research Series. In this box, you'll find three 5cl bottles of some of our successful experiments in our Research Series.
Stauning Curious (43%): The first is not a whisky. Stauning Curious is the unaged heart of our Stauning Rye Whisky that has been smoked over peat and heather. It is a rich and smokey new make with a subtle sweetness. Not unlike mezcal and grappa, however with a bit more body and character thanks to the malted rye. The first edition of this bottling won the 'Worlds Best New Make' in 2019 by the World Whiskies Awards.
Stauning Bastard (46,3%): The second whisky is a rye whisky made purely of local ingredients, malted on the floor at our distillery and double-distilled in flame-heated pot stills. After at least three years in new, toasted virgin American oak casks, it has been rounded off with at least 6-months ageing in old mezcal casks from Mexican Oro de Oaxaca. Lots of fruity flavours with complex but subtle smoky notes from the Mezcal casks.
Stauning El Clásico (45,7): The third is a Nordic whisky demon with Iberian blood flowing through its veins. Stauning El Clásico is a matured rye whisky that has additionally been aged in sweet Spanish vermouth casks. Warm & intense yet sweet & round with lots of complex tasting notes to enjoy.